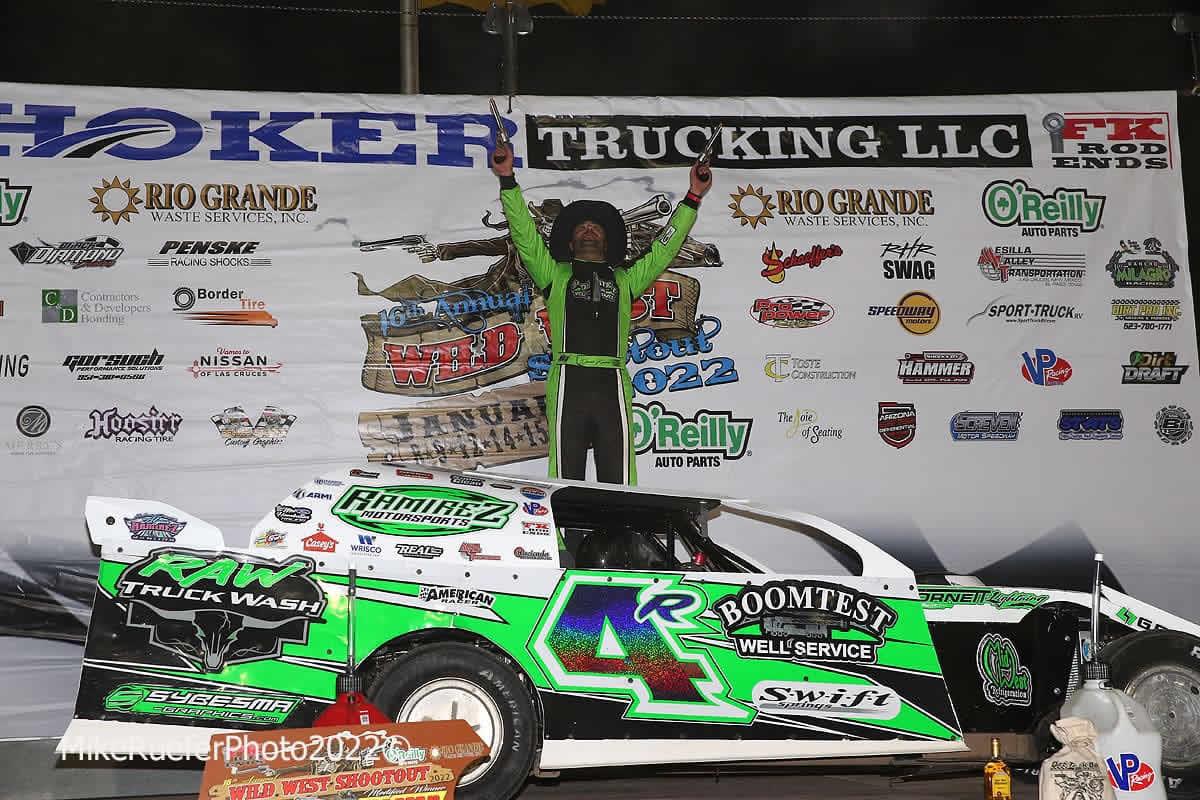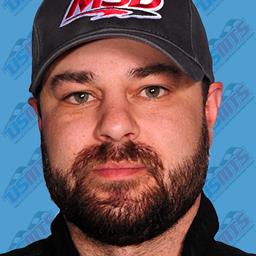 ---
Dereck Ramirez picks up Wild West Shootout victory at Vado Speedway Park
Dereck Ramirez opened his 2022 season with a $2,000 victory on Saturday aboard his S&S Fishing & Rentals No. 4R Koda Services/ Boom-Test Well Service/ Raw Truck Wash/ Hughes Racing Chassis/ Cornett Racing Engine Modified. (
Mike Ruefer photo)
The maiden trip to Victory Lane came during the opening round of the 16th annual Wild West Shootout presented by O'Reilly Auto Parts at FK Rod Ends Vado Speedway Park. He backed up the opening night win with a 20th-to-2nd run in Sunday evening's finale.
"Man, I don't know what to say about Saturday night's win. I could put the car wherever I wanted, and it just stuck. This is a tough field of Modifieds, so to be win a race by over four seconds is pretty awesome for our team. We hoped to start this year with the momentum that we ended last year with, and the first few races we've been able to do that," Ramirez commented. "The track was heavy and fast on Sunday night, and we didn't pass enough cars to lock into the feature, so we had to get in out of the B-Main. We got all the way from 20th to second, so it wasn't a bad night at all."
Dereck Ramirez kicked off his 2022 season on Saturday afternoon behind the wheel of the Raw Truck Wash No. 4R Modified at Vado Speedway Park (Vado, New Mexico) for the 16th annual Wild West Shootout. In a field of 53 Modifieds, Ramirez improved nine spots in his heat to place second. Earning the pole position for the feature, Dereck led wire-to-wire in the 25-lapper to capture his first win of the season and the $2,000 prize. He crossed the finish line 4.188 seconds ahead of Jacob Bleess with Tyler Peterson, Dan Ebert, and Rodney Sanders completing the Top-5 finishers.
On Sunday, Dereck's sixth-place finish in his heat race relegated him to the B-Main. Advancing two spots to finish second, Ramirez locked into the 20th-starting position for the A-Main. With $2,000 on the line, Dereck charged through the field to register a second-place finish. He followed Tanner Mullens across the line with Tyler Wolff, Bo Day, and Fito Gallardo rounding out the Top-5.
Dereck leads the latest Modified point standings for the miniseries. Additionally, he is in the running for the Rio Grande Waste Services Four or More Challenge, which posts a $10,000 bonus for any driver who can four or more features during the six-race swing.
Back to News