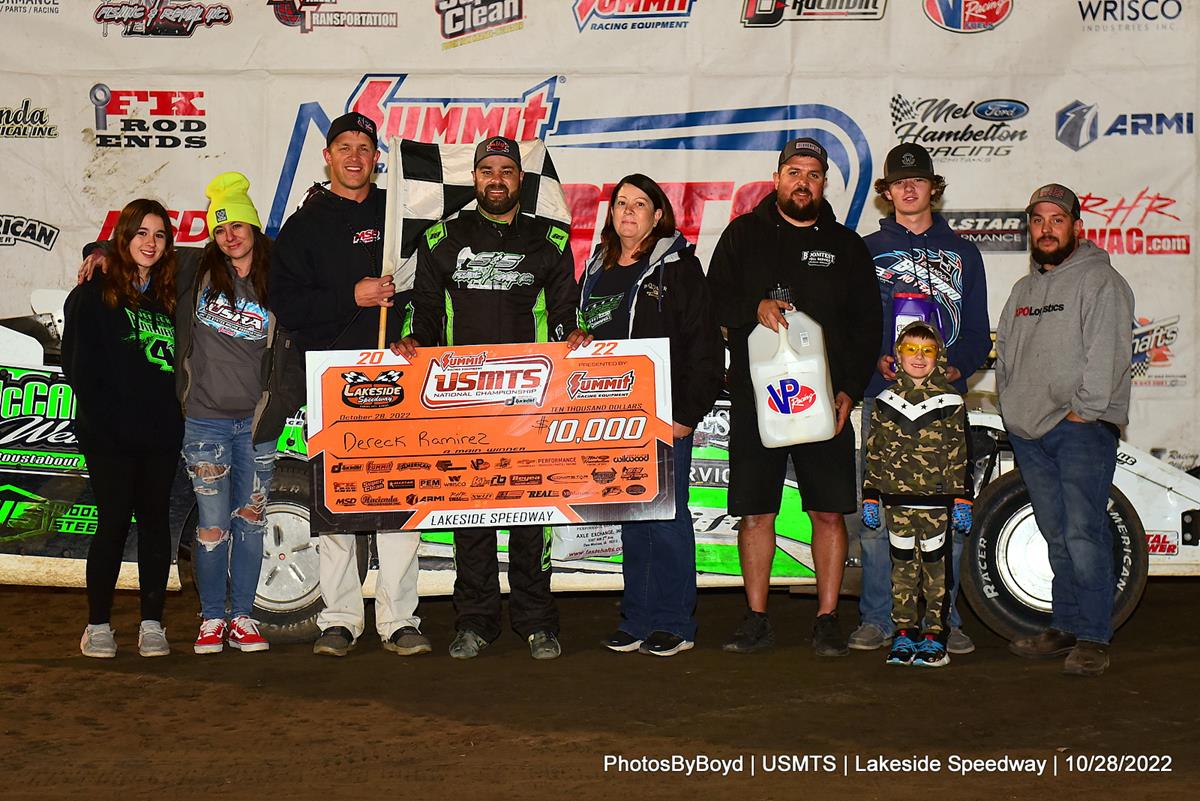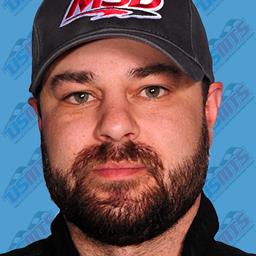 ---
Ramirez tops USMTS field at 81; finishes fourth in standings
Dereck Ramirez earned his seventh win of the 2022 season on Friday night behind the wheel of his S&S Fishing & Rentals No. 4R Koda Services/ Boom-Test Well Service/ Raw Truck Wash/ Hughes Racing Chassis/ Cornett Racing Engine Modified.
The victory at Lakeside Speedway was worth $10,000 and marked his seventh triumph of the year. The Oklahoma racer claimed the victory in thrilling fashion with a last-lap pass of Terry Phillips amidst lapped traffic to snare the win.
"I don't think there's any conserving on a racetrack like that. That's pretty demanding," Ramirez shared in Victory Lane following the non-stop 40-lapper. "I'm 36. I feel like I'm 85. I can't breathe very well… I just got him (Terry Phillips) in lapped traffic there. I don't think I would have had a chance if he hadn't got in there. When he got back by me I said, 'You know what, I'm going to drive this thing wide open and if it doesn't turn I guess I'll knock the wall down.' Everything worked out.
"He kind of got out there on me. I wasn't going to tear my stuff up and then I kind of started coming back to him when I hit that bottom pretty good and I thought we might as well just try her and I moved up to the middle and there was a lot of moisture there I didn't know and it just worked out"
Dereck Ramirez returned to the road with the United States Modified Touring Series (USMTS) on Thursday evening at Tri-State Speedway (Pocola, Okla.) for the inaugural King of the Ring presented by Wrisco.
With a third-to-second run in his heat race placing him on the front row for the opening night feature, Ramirez faded one spot after a mid-race restart to finish third. He followed race-long pacesetter Dan Ebert and Terry Phillips to the checkers.
For Friday's Kansas City Sizzler at Lakeside Speedway (Kansas City, Kan.), Dereck qualified third-fastest in his group before placing second in his heat race.
After leading the opening five circuits of the feature, Ramirez tracked down late leader Terry Phillips with two laps remaining and went on to capture his seventh win of the season and a $10,000 prize.
His 25th-career USMTS triumph came ahead of Phillips, Jacob Bleess, Tyler Wolff, and Jason Hughes.
On Saturday afternoon at 81 Speedway (Park City, Kan.), Ramirez secured his spot into the USMTS finale with a runner-up finish in his heat.
With $10,000 on the line in the finale, Dereck ran in the top-five early but lost powering steering on lap 26 that sidelined him for the remainder of the 40-lapper. He was credited with a 15th-place finish
Dereck finished fourth in the final USMTS point standings.
Full results from the weekend plus the complete final standings can be found at www.USMTS.com .
Dereck's 2022 season is now officially complete. He's already looking ahead to the 2023 campaign, which will begin with six events during the January 7-15 span at FK Rod Ends Vado Speedway Park. The 17th annual Rio Grande Waste Services Wild West Shootout includes four $2,000-to-win events for the Modified division along with two $1,000-to-win programs.
For more information on the miniseries, please visit www.WildWestShootout.net.
Article Media
Back to News